Brandon Ward from Esperance in WA raised over $2,000 for the MS Readathon last year. His grandmother, Helen, who is the primary carer for Brandon, 'provided encouragement' throughout the program. This meant that when Brandon had a great idea, he was able to put it into practice. Brandon read a story onto a tape and sent it out to several businesses asking them for sponsorship. He was very successful. His beautiful reading skills made sure that everyone who heard his tape could not help but sponsor him for the 2007 MS Readathon. The MS Society has deemed her to be "one special grandmother".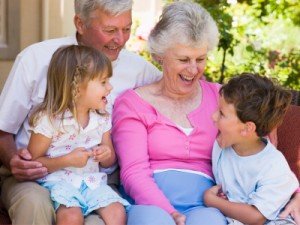 And any parent would have to agree, doing it all over again while in an older age bracket, is certainly a job that deserves a lot of respect. In fact, the reality and statistics surrounding people such as Helen and Brandon may very well shock and surprise the average Australian.
The most recent Family Characteristics Australia report shows there are a staggering 22,500 grandparent families acting as the primary carers of grandchildren aged up to 17 years. This statistic, however, is already five years old and has most likely increased dramatically. The Australian Government's website, for Australians over 50, states that the number of grandparents acting as the main carer for their grandchildren is certainly on the rise.
This news is not surprising to Glenda Compton of Off Our Rockers, a national support group that caters for grandparents who have one way or another become the primary carers for their grandchildren. She says it is only through the lobbying of groups such as hers that government authorities are finally recognising the depth of the issue.
"Getting the exact figures for the number of people looking after their grandchildren is not easy," Glenda says. "Many are doing it on their own without any help. "But the number of people who have been in contact with our group would have to be in the thousands. "I had no idea there were so many until starting this up."
Glenda and her husband Ralph, came in contact with the Off Our Rockers support group in 2000, when caring for their six-year-old foster grandchild, Matthew. The Comptons, who had been raising Matthew since he was seven weeks old, had brought up five children of their own and cared for at least 35 foster children, but found support for Matthew and themselves was limited.
"There really was nothing out there for grandparents raising grandchildren," Glenda says. "So, I made contact with the Southern Highlands branch and then decided to take it from there. "We put an ad in the Brisbane newspaper and had six people contact us straight away. "Within 12 months we had 300 members."
Eight years on, Off Our Rockers has branches throughout Australia and is able to boast an impressive record in lobbying government for change in regards to carers and grandchildren.
"When we got started there was nothing for grandparents," Glenda says. "Children weren't entitled to health care cards, and unless they had been placed with their grandparents through the Department of Community Services, the carers were not even entitled to parenting allowances.
"Early on, we invited the member for Springwood, Barbara Stone, to one of our monthly meetings to listen to grandparents and the concerns they have. "She then organised a meeting with the Minister for Family Services," Glenda remembers.
That meeting lasted 45 minutes. Glenda was accompanied by two self-funded retirees in their seventies who were caring for two grandchildren and their stories made people listen. Members of the Queensland Law Society joined discussions and the result, after much hard work and discussion, has led to the publication of a booklet aimed at helping grandparents.
Just as importantly their actions have led to major changes in financial support. Centrelink now provides parenting payments for grandparents and carers who have day-to-day care and responsibility for grandchildren. They also offer to entitled recipients Family Tax Benefits, Grandparent Child Care Benefits, New Start Allowance and the Double Orphan Pension.
"We have achieved a lot," Glenda agrees.
But Off Our Rockers, and other groups similar groups such as Grandparents Assisting Grandkids Support Inc, the Grandparents Raising their Grandchildren Family Support Project in Tasmania, Grandparents ACT and Region, Grandparents Victoria, Grandparents Raising Grandchildren in South Australia, and the Kidlink Grandparents Support Group in Western Australia, are all doing their bit.
All these groups are equally focused on providing moral support to members and attendees.
Granparents ACT and Region was formed in June 2003 as a strategic partnership between Marmead Child and Fmaily Centre, Canberra Mothercraft Society and Relationships Australia Canberra and Region. Its funding comes from the Department of Disability, Housing and Community Services and it aims to provide support, referral and advocacy as well as holding information sessions and regular events.
It's website, Grandparents.org.au, is useful and contains information grandparents can use from day one, such as what to do when children arrive at your home, and where assistance can be sought.
Granparents Raising Grandchildren in New South Wales is an initiative of Council of the Aging (COTA) (NSW) which came about after years of research and cooperation between grandparent support groups and community service representatives. The group's website was financed by a grandson in remembrance of the grandparents who raised him and gives a list of resources and organisations that can offer support throughout the state.
Other similar groups operate in every state throughout Australia and all have a common thread. They realise that grandparents go through major upheaval in their lives when taking on the care of the care of children for the second time in their lives. Many get little time to prepare for their new role and are financially, legally and emotionally not ready. The support they receive when meeting with others in similar situations helps them get through initial stages and come to enjoy the role they play in their grandchildren's upbringing.
"We've heard a lot of stories over the years," Glenda says. "And generally they are pretty similar. "Most people come in pretty quiet to begin with but soon realise that everyone is in the same boat and has the same issues. "We have a protocol that nothing that is said leaves the meeting, so they soon find out they are not alone. "Eventually, they are ringing each other up to catch up for coffee or the movies, or to have the children get together. "It's invaluable."
There is no one reason for how grandparents come to be in care of their grandchildren but stories show that in many cases it is the parent's addiction to drugs or alcohol that finds them relenting care of their children to the grandparents.
Hannah a single grandmother, rescued her two grandchildren from a situation of drug abuse when they were babies. Her decision led to abuse from her daughter and her partner and caused a sever drain on her finances. Government intervention however, has seen the latter improve, but unfortunately her situation is only too similar for many others.
Another couple, Margaret and Victor, also came to care for their baby granddaughter after the death of her mother from drugs. The couple had a battle to gain custody of their grandchild, who had been placed in a foster home, but have finally been made her guardians.
Glenda has come across many similar stories and many have hit hard. A couple she saw regularly, aged in their eighties, were raising two grandchildren on a pension and parenting allowance and enjoying the support they received by attending Off Our Rockers meetings. Glenda remembers they feared their son, but had no choice or regret about caring for the 11 and 13 year olds. Glenda was due to collect the couple for an Off Our Rocker meeting when she was told they had been gunned down by their son, who then shot himself. Their maternal grandparents are now caring for the children.
It's not all bad. Helen and Brandon, mentioned at the beginning of the story are one of the many inspirational achievement stories that the grand-parent-child relationships have to tell. For many, raising a grandchild gives new purpose to the lives of a grandparent. They take better care of their health, are further interested in educaton and pay new attention to technology and the interests of the younger generation. Glenda is also justifiably proud of Matthew, who has gained a scholarship to an exclusive private school and is performing well musically and academically.
And, while he has grown into a thriving teenager, Glenda has not rested on her laurels. She has continued her work as an apostle in the Cross Roads Ministries she established in 1998. Sadly, her husband Ralph, passed away 12 months ago, but she goes on. She is in the midst of passing on day-to-day running of Off Our Rockers to concentrate on a new project that aims to establish a respite centre for young mothers and their children. And, she has returned to being a foster parent, caring for babies.
"You have to do something," Glenda says. "There's no point sitting around."
And when asked how Off Our Rockers got its name, she answers dryly.
"I really don't know. It's either because none of us has time to sit on our rockers, or we're off our rockers for doing what we do!"
By Petrina Smith
Article provided by The Retiree Magazine